Saltsman's Wings is a small private owned business specializing in Good used, and One Owner GL1500 & GL1800 Honda Goldwing Touring Bikes.

We can also do repair work on your personal bike such as insurance claims, deer hits, or other accidents, etc.

We also do routine maintance, detailing, and add accessories such as chrome, lights, hitches, etc.

We are located at 2147 Sadler Rd.; Leitchfield, Ky. 42754
Ph: 1-270-259-3454
Cell: 1-270-287-8802
Cell: 1-270-589-0784
E-mail: saltsmanswings@hotmail.com
or: rakenrandy@hotmail.com


BIKES FOR SALE:
2005 Nova Blue GL1800 Goldwing

2005 Nova Blue GL1800 Honda Goldwing
Super Sharp 54,000 miles, Asking $8,900.
2005 Silver GL1800 Honda Goldwing!
Super Nice! Only 64,000 miles, Asking $8,900
2012 Pearl White GL1800 Honda Goldwing
Only 28,000 miles, Asking $14,999
2005 Halmark 12ft Motorcycle Trailer !
Side Entry Door, Wheel Chock Mount, etc. $2,900
1998 Silver GL1500 Honda Goldwing SE
Only 61,000 miles! $4,500 SOLD!
Riding Season is about Here!!!!!!!!
Get your Ride Early!!!!!!!!
2012 Candy Red GL1800 Goldwing CSC Trike!
Brand New kit! 28,000 miles! $26,900
More Bikes available
Call or e-mail for other bikes
that we have available.
We specialize Used, mostly one owner GL1500 & GL1800 Honda Goldwing touring bikes.
We do repair work, routine maintance, detailing and add accessories, etc.
Hours: Monday through Friday - 9:00am and 5:00pm
Saturday - 8:00am to 1:00pm (after 1:00 by apt only)
Sunday - appointment only: Call if no answer * Leave Message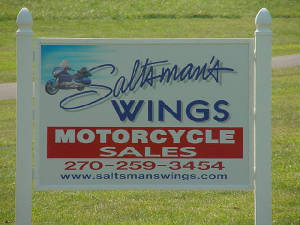 How To Order
You can contact us if you are interested in our items.
PH: 1-270-259-3454 Cell: 1-270-287-8802 or E-mail us at: saltsmanswings@hotmail.com or rakenrandy@hotmail.com